Shopify is one of the best eCommerce platforms available for developing online stores. It enables developers to build platform-independent eCommerce stores.
Shopify offers nearly every feature that you need for your eCommerce store development. It is the first name that most enterprises think of when it comes to developing the best eCommerce platform. It is not wrong to say that hiring a Shopify web development company will be worthwhile for developing a top-notch online store for your business.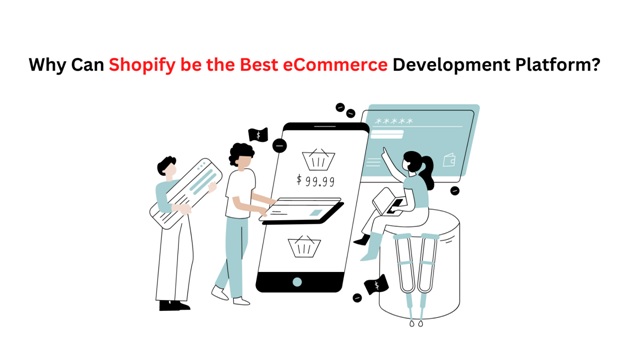 Let's see what Shopify offers that makes it the best eCommerce website development platform.
Features of Shopify
Payment Gateway
To successfully run an online store, you require a reliable payment gateway integration. Shopify makes it handy for online store owners to integrate a secure payment gateway to their eCommerce websites. It facilitates buyers to make online transactions conveniently.
Shopify supports over 100 payment gateways. It also offers its own payment gateway with the name 'Shopify Payments' that comes with negligible transaction fees.
Secure eCommerce Website Development
We must acknowledge the importance of having a secure eCommerce website for a business. Every online store has to deal with customer information like credit card details, personal information, and others. Investing in Shopify development services means you will not have to worry more about the security of your website. Shopify comes with various security features like network monitoring, secure hosting, etc. Besides that, the platform is PCI-DSS compliant, which helps secure the cardholder's data used for making transactions.
Multi-Lingual Functionalities
An online store caters the worldwide customers enabling your business to sell your products and services globally. If there is a choice of languages given on a website, most internet users prefer visiting websites in their native language.
Shopify provides various plugins like Langify, Multi Lingo, and others that can be used to translate an online storefront into different languages. So, if you want to create a feature-rich eCommerce website with multi-lingual functionalities, you can rely on a Shopify development company to serve your purpose.
Multiple Themes Available
Shopify offers a lot of ready-to-use themes for its users. These responsive themes are available in both free and paid options. They come with customization abilities making it possible to create a unique online store for a business.
On a Shopify theme store, you can browse various themes in different styles, functionality, design, and price. Moreover, Shopify categorizes the themes into different categories like art & photography, health & beauty, electronics, and others. This makes it handy to choose a suitable theme for developing an online store.
Mobile-Friendliness
It is expected that in the coming years, most online sales will be made on mobile devices. So, you can not deny the importance of having a mobile-responsive online store for your business.
The advancement in the Shopify development technology leads to making a mobile-friendly online store. It signifies that your eCommerce site will look great on every device, whether a laptop, tablet, smartphone, and other. All Shopify themes are platform-independent, enabling a Shopify development company to develop a mobile-friendly eCommerce site for a business owner.
SEO-Friendliness
An SEO-friendly online store lets you gain more visitors and gives you more opportunities to sell to potential leads. Shopify comes with inbuilt SEO features that help optimize your eCommerce website. It lets businesses optimize their website content as per SEO perspectives. With Shopify SEO services, search engines can detect your website and perform proper indexing to boost your site rankings.
So, by investing in Shopify development services, you can have an SEO-friendly eCommerce store for your business that will be helpful for your business growth.
After understanding the benefits of using the Shopify platform, let's see how to hire a Shopify development partner for your online store development.
Factors to Consider Before Hiring a Shopify Development Company
Due to the popularity of Shopify, various Shopify development companies are in the market. Finding a reliable Shopify development partner for your online store development will take a lot of work in such a scenario.
Here, we are mentioning some factors you must consider before considering the Shopify development services of a company.
Deeply Research Their Portfolio
The first thing you must look at in a company is its portfolio. It will give you information on their past work and give you an idea of their work quality. Looking out for their past work will help you make a decision about whether you should consider them for your project or not.
Consider Their Ratings and Reviews
If you are satisfied with their past projects, now is the time to check the company's reputation among their clients. To do so, you can check their reviews and ratings on different platforms. Besides that, to check the client's working experience with the organization, you can also visit their client testimonial section. Moreover, it will be better to research their awards and certifications to see their expertise in the specific domain.
Can They Cater Your Website Development Requirements Well?
Do you have some sort of features and functionalities that you want to implement on your website? How can you ensure that an organization can develop the web solution as per your needs?
You can do it by looking at the past Shopify development projects they have mentioned in the portfolio. Try to match the functionalities with your specific requirements. If the outcomes are impressive, it will be better to leverage their Shopify development services for your eCommerce website development.
Considering these above factors will surely help you to hire a suitable Shopify development partner for your project.
Click here to know all about Shopify E-Commerce Website Development.
Conclusion
Shopify is the best platform for everyone who wants to create their own online store. It is a secure and SEO-friendly platform that helps you develop a top-notch eCommerce store for your business. Do not just trust the words. The best way to find out whether it is perfect for you or not is by trying it yourself.
However, if you want a more secure online store enabled with SEO-friendly features, it will be better to avail the expertise of a Shopify development company.