Getting dressed to go to work in the summer can be a real headache. Getting to create relaxed, fresh and formal office looks without dying in the attempt seems like an impossible mission. And it is that on many occasions we have to follow dress codes that do not get along very well with heat waves.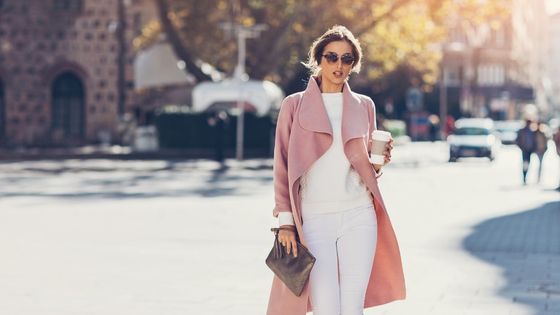 Don't worry, in this post, we will fill you with ideas and many options for dressing to go to the office when the sun is shining. Some will even help you to go from work to after work. List? Here comes a good dose of inspiration, here we go!
How to create our office outfit?
In summer, the body asks us for colour and fun, and that inevitably translates into our outfits. Cheerful swimsuits, summer accessories, colourful prints. Now, when it comes to dressing for the office, things get complicated since we have to adjust to a certain style.
How to create formal outfits at the same time and be comfortable and fresh? The eternal question in the hot months. We at Albeli give you a clue: many basics in fresh fabrics and small touches of colour.
The basics: wardrobe background
You already know, we love off-road garments, those that get you out of a hurry to go out to dinner, go to work or for a quiet day, but that change and have a thousand lives depending on how we accessorise them. These garments are key when creating our office looks since they offer us many possibilities. Garments that you can use over and over again with different combinations, fully adaptable to different styles and office outfits. This way we will not have to think too much about our looks every morning.
These basic garments continue with us over the years and resist fads and passing trends. They are stylish, elegant and timeless. If we had to make a good capsule wardrobe to create a thousand-and-one-office look for women, these are the pieces we would choose.
Dress
Sleeveless dresses are our star garment to wear in summer. They are formal and fresh at the same time. Impossible not to go well dressed in a little dress and low-heeled sandals.
This sleeveless wrap dress incorporates a detail that makes a very simple garment something more special: the ruffles on the shoulders. Its V-neckline and adjustable elastic waistband make it a relaxed and cool piece.
And in a versatile and highly combinable colour: light beige will go well with accessories in white, brown or black, but it also admits more powerful colours such as orange, so fashionable this season, pink or lime green.
Blouse
Linen is one of the quintessential summer fabrics. It is fresh, light and structured. So it's no wonder she wears a lot of our summer clothes. Linen blouses cannot be missing from the wardrobe season after season.
How about one in a summer colour? Our flowing short-sleeved shirt in a mustard tone with a Mandarin collar and pocket on the side wins us over with its perfect simplicity. Accessorise with a golden choker or long earrings, a sure hit.
The pants
Tailored shorts are, without a doubt, our favourite option for our summer office outfits. Relaxed and fresh but with a structure that imitates suit pants, so elegance is guaranteed.
Also made of linen, our must-have this season are these seaweed green Bermuda shorts with an elastic waist and side pockets. Our tip? Pair them with block-heeled strappy sandals to elongate your legs.
Trendy touches for your office look
But what is a good look without its touch? You know, the accessories, touches of colour, more daring accessories. That 'plus' takes your office look to the next level. It's easy to do with the right accessories, but if we previously highlighted the advantages of the basic pieces, here we encourage you to risk something more.
The shoes
We can only think of dressing our feet in colour in summer, it is a perfect way to give that touch that we were talking about to any office look, especially if we combine it with neutral colours. All eyes will go to our shoes, so what better than a colourful heeled sandal?
These Hispanitas sandals combine everything we like: a very comfortable low heel for day-to-day, a 1990s air with its multi-strap design, transparency thanks to vinyl combined with leather and powerful colour.
Bag
An office bag has to meet two conditions: functional and stylish. A super relaxed and summery design thanks to its raffia effect finish and touches of white. Double handle, to hang over the shoulder and adjustable shoulder strap, and of course, a spacious interior divided into several sections, two of them with zip closure. It has everything to be the summer all-terrain bag because it also admits thousands of combinations.
How to pull off the business-casual look
The complements
They are important, particularly in the footwear industry. A look can change from more formal to less formal by switching from a shoe to a sports shoe. For jobs that call for an even more relaxed business casual (creative environments, start-ups…), it is interesting to consider this.
Moccasins, oxford shoes, trainers, ballerinas, flat equestrian or military-style boots (subtle), country ankle boots, flat sandals, clog-style, mules, espadrilles, and other options can help you achieve that well-balanced and comfortable ensemble.
The fantasy
It has a place, but only in small doses or when worn in conjunction with more understated clothing. Examples include a blouse with a more pronounced pattern, a hint of transparency on the sleeve, and a monochromatic ensemble in an unusual (but calming) colour.
Occupational health
You will need clothing with a little give or fit that supports your posture if you spend a lot of time sitting down. Avoid wearing stiff, high-waisted pants or skirts because they can be extremely uncomfortable for you. Take care of your shoes if you spend a lot of time walking around; they will serve as the foundation for your entire outfit.
Garments with off-road finishes
Being allowed to enter a meeting without having to smooth out a million wrinkles. Clothing made of natural materials that allow your skin to perspire and conceal sweating. Beware of heating or cooling systems because they will mark your clothing choices. The best option in both situations is to layer your clothing.
Essential basics
Cotton t-shirts in white and black, jeans, lingerie tops, denim shirts, and denim skirts. To refresh more conventional office attire, they blend amazingly well.