We are right in the middle of the festive season with Diwali just around the corner. Historically, the festival has been one that symbolises celebration, the return of good times and a brighter future. This year, Diwali not only represents these things but also serves as a beacon of hope for the return of normalcy in our lives.
Diwali is one of the biggest festivals in India. People light up their homes for blessings from the gods and open their doors to charity as well as goodwill. Since it is a festival of celebration, dressing up is always a must! Despite us spending this year's Diwali close to family, it does not mean that we do not get to go all out with our outfits. Here, we are going to tell you the 8 ways to look adorable this Diwali!
8 Ways to Look Adorable This Diwali
The festival of Diwali has always been represented by shine, sparkle and colour. It is an event that is for family, tradition, heritage and joy. Keep reading to know how you can look adorable for a low-key Diwali at home!
Modern Saree
Sarees are an all-time hit for all ages and events. You can never go wrong with it. However, if you are someone who wants a more modern take on the class saree, go for the more trendy options. You can go for one with ruffles, or quirky prints. One of the most popular trends in sarees right now is florals, connecting to the cottage core aesthetic. You can even experiment with the backdrop event drapes. Take a satin saree and turn it into a gown, or a lehenga or do a blouseless drape! Saree trends are a safe way in which you can look absolutely adorable this Diwali!
Styl Tip: Do not force heritage pieces with trendy saree designs or drapes. The last thing you want is for your outfit to look like it has no clear direction.
Kurta with Palazzos
This is a very youthful interpretation of a desi classic. Kurtas with palazzos offer a variety of variations that fit every style aesthetic. You can wear a shimmery, sequined heavy kurta with silk palazzos for a maximalist look. For a more minimalist outfit, you can go full monochromatic in a bright colour with little work on the kurta. Pair the kurta and palazzos with ethnic juttis or kholapuris and gleaming chandbalis. Dewy makeup with kohl-rimmed eyes finishes the look!
Sharara Suit
This is the fun cousin of the palazzos. Shararas ooze fun, femininity and festivities. Traditionally, they are worn during special events. So Diwali is the perfect occasion to take your sharara suit out for a night of celebration! With shararas, you can experiment a lot with colours, fabrics, prints and embroideries. You can go for a heavily embellished kurti with a plain sharara underneath. If that is not your vibe, you can turn this into an indo-western look easily. Just pair your sharara with a crop top and put an ethnic shrug or jacket over it. You can also drape a dupatta over it or go full Poo from K3G.
Low-key Lehengas to Look Adorable This Diwali
If you are someone who likes to make an effort to be the best dressed for the night, then a lehenga is the best option for you. The easy grandiosity of a lehenga matches no other traditional dress. You can go for a lightweight and breezy lehenga in a bright colour to stand out amongst the crowd. On the other hand, a heavy lehenga with interesting embroideries and embellishments will no doubt make you sparkle. Pair the lehenga with a heavy necklace and chic to finish the exquisite look of the night!
Timeless Anarkalis
This is for the ones who want a majestic outfit to look adorable this Diwali. Anarkalis are a traditional outfit that will never go out of style. They are perfect for every body shape and size. Not just that! They are extremely comfortable and flatter pretty much everyone! You can always find a thousand options for anarkali suits everywhere. This Diwali, go for a light anarkali suit to feel breezy and light on the festival night. A white and gold colour combination is a classic no one can beat. But if you are someone who has a maximalist personal style, then, by all means, go all out! A bright anarkali with embroidery and embellishments will help you outshine everyone else. Pair the anarkali with jhumkis of your preference, traditional juttis, dramatic eyes and your hair in a bun. You will be the picture-perfect desi girl. So go ahead and give it a try!
The Classic Saree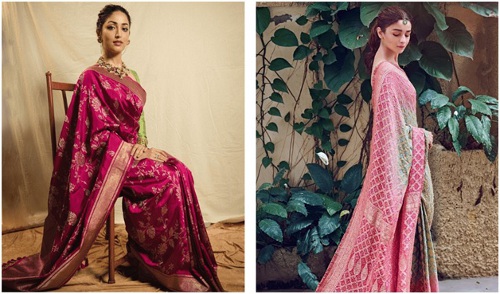 A saree is a must-have in every Indian girls' wardrobe. Not only is it the perfect way to look effortlessly sophisticated and beautiful, but it is also perfect for every event! For Diwali, you can always ditch the suits and trends by opting for an heirloom saree. Not only will it give your outfit a classic vibe, but it will also add just the right amount of history to help you feel connected to your ancestors. So do not shy away from raiding your mom's or grandmother's wardrobes for your perfect Diwali fit. Not just the sarees, you can also borrow their heirloom jewellery to help finish the look. If you are afraid to look or feel too old, just drape the saree in a new and modern way with more contemporary hairstyles. Make sure you click a picture and share how you reused the classic saree with your friends!
Styl Tip: Keep your makeup minimal and dewy to help your youthfulness shine and balance the age-old tradition of the saree.
We hope that this article helped you get some ideas on how to look adorable this Diwali. For any assistance regarding wedding or personal styling, contact us at Styl-Inc and our team of expert stylists will get in touch with you.
Stay tuned to Styl-Inc blogs for more wedding styling tips and tricks.