One way to encourage and show love to your golfing partner or friend is to give them the best gifts that will inspire them. However, it does not mean that you have to keep looking for the latest gifts on the market. You need to identify the most encouraging gifts for him.
Undoubtedly, there is no shortage of gifts or ideas, but if you are not keen enough, you can get stuff that might not be interesting. So, before you invest in gear, accessories, and other golf-related gadgets, you need to do your homework first. A perfect gift should be something that helps your golfing friend or lover enjoy the game even more.
In this post, we explore some unique gifts for golfers that you can consider. Read on to learn the best gifts that will improve your gifting game. Here we go:
1. A Convenient Trunk Organizer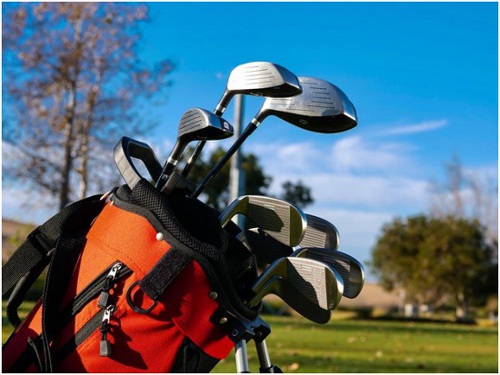 A golfer would be happy to have something that helps them keep their golf gear and accessories organized. So, a trunk organizer that allows them to store their tees, gloves, shoes, balls, and golf accessories would make them enjoy the game even more than they have always done.
Note that trunk organizers vary in many features, including size, design, and prices. Some are small, and they go for a few dollars, while others are large enough to carry clothes, but they are a bit more expensive than others.
To ensure that your beloved golfer gets helpful gadgets, you can try to find out the kind of organizer they prefer. You can, of course, do so without letting them know that you are planning to gift them. Once you have the information, acquire it and surprise them with it. They will get the motivation to perform better than ever.
2. A Smart Golf GPS Watch
If your golfing friend or spouse loves gadgets, a perfect gift that would encourage them to enjoy the game, even more, is a golf GPS watch. A good watch will not only be helpful to them while playing, but they will also find it great off the course.
A smart golf watch with great functions such as a heart rate monitor, a GPS feature, and an activity tracker is what you need to consider. With such a watch, your golfing friend will monitor their performance and determine areas for improvement. So, they will find it a good gift and a performance-enhancing gadget.
Depending on your budget and other considerations, you can go for expensive types with many functionalities or simple ones with essential functions. You can also find out what the person you want to gift would like to use.
3. Customized Golf Ball Markers
Gifting your golfing friend or partner customized or personalized gifts will make them happy and remind them of your support. Customized balls would be great if your golfer already has almost everything they need to enjoy their game. Such gifts will show them your love and set them apart from what they already have in store.
You can easily order personalized golf balls and other gifts from many sites that sell such stuff. All you need is to contact them, state the kind of gear you want from them, and within no time, you will get it. Balls are very vital in golf, and if your friend or partner gets personalized ones, they will undoubtedly be happy.
4. Golf Jackets and Pullovers
Your favorite golfer might want to brave winter conditions because of their love for the game. As a supporter, one way to support and ensure that they enjoy the game is to give them appropriate golf jackets and pullovers. He will feel warm and look good as they play their best game. Good jackets and pullovers should have the following features:
Made of good fabrics suitable for playing
Water repellent feature
Looks great and is durable
Stretchy and warm
If you can get jackets and pullovers that combine the above features, you can make your favorite golfers' experience more comfortable. You can ask the supplier to deliver branded jackets and pullovers as such garments would make perfect gifts worth remembering. It will give them a reason to brace for the cold weather and play comfortably.
5. Portable Golf Launch Monitor
If your best golfer would like to improve their competitive edge and you want to help them, a portable golf launch monitor would be great. With a launch monitor, he will be able to keep track of their performance and improve where necessary. Usually, a launch monitor will do several activities that include but are not limited to collecting data on the following:
Ball speed
Launch angle
Distance
Swing speed
To enhance performance, you can ask him to link the launch monitor with an appropriate app on their phone or computer to get useful analytics. It becomes easy for him to track his work and improve where necessary with such information. You can also get them the best launch monitors with improved features if your budget allows you, bearing in mind that you might spend a few more dollars on it.
Conclusion
Getting a perfect gift for your golfing friend, husband, brother, or another person will inspire them to improve their game. Like any other game, golf needs inspiration, and with the support of loved ones, it becomes pretty easy for one to boost their competitive edge. Thankfully, there are many gifts that you can consider and get them.
This article has explored the best gifts for golfers. If you want to give the rewards that will have them enjoying the game even more than ever in the past, consider these gifts. You can get one or several of them for him and see how he will be happy and improve his skills. You can easily find these gifts conveniently without blowing your savings or bank. All the best as you acquire the best gift for the golfer in your life!