Wall beds are great furniture designed for guest room and office combo bedrooms or tiny bedroom spaces. They are innovative beds that are designed to be stored vertically against the wall when they are not in use, leaving extra floor room in the bedroom/living/office space.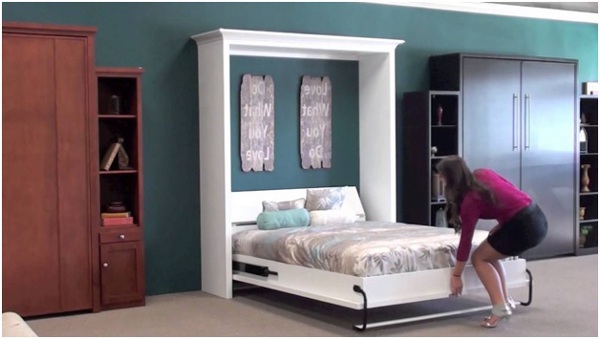 Since their invention, wall beds have evolved into modern, stylish, multifunctional furniture pieces that easily fit in with any type of décor. They come in a plethora of heights, width and material depending on the design you want for your home. Wall beds come in two main designs, freestanding wall beds and wall mounted wall beds. Free standing wall beds do not need to be anchored into the wall while wall mounted ones are a bit complicated to install since they need to be anchored professionally. If you live in a rental apartment, a freestanding wall bed would be a better storage solution as it is a less permanent furniture piece.
Let's check out the major benefits of getting a wall bed
You get extra bedroom space
Getting a wall bed is a great way to maximize the function and flow of a small room. Modern housing is all about tiny living spaces and this requires space saving solutions such as wall beds. While not as popular as before, wall beds are the perfect floor space solutions for people with limited rooms and limited amount of space. When you are in need of a workspace and a bedroom but you only have a room to space, getting a wall bed can help you turn one room into two without having to spend too much money. You can turn your bedroom into an office space, and gym without the worry of clutter.
They are multifunctional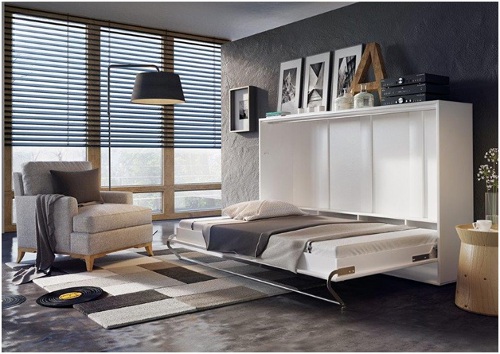 Wall beds can solve your storage space issues in the bedroom by acting as multifunctional furniture pieces. With limited space, you will not have to add additional shelves, nightstands, wardrobes or work desks. You can simply get a wall bed with built in storage spaces. Some wall beds have a drop-down table that turns into a desk. This is great when you have limited rooms in your home. You can turn it into an office space during working hours and guest room when you have to entertain some guests for some nights in your home.
Modern wall beds allow users to leave the work items on the desk while pulling it out of the wall. The work desk will remain horizontal; therefore, the work supplies will remain safe.
Some wall beds have slight out trays that can be taken out to be used as night stands during the night and folded back into the bed during the day. They also come with storage headboards that gives you space to place in extra beddings, comforters and pillows.
They are perfect for guests – better than getting pull-out sofas
Unlike other space saving solutions like fold-away beds and pull-out sofa beds, wall beds are actually pretty comfortable. Other space saving bed solutions do not have sturdy frame works built in so the mattress tends to slid out or get older quicker. Most modern wall beds are built with a strong framework that can support modern, quality mattresses which increase the comfort level. Not to mention, wall beds are very easy to use. You can retract the bed back into the wall with all sheets and beddings still in place and pull a well-made bed out of the wall when you want to use it.
You get well-rested
Bedroom furniture is not easy to buy: You have to worry about more than décor when it comes to choosing furniture for your bedroom. When it comes to choosing the bed, comfort comes first. Getting well rested and a good night's sleep should be a priority for everyone. Fortunately, wall mounted beds come in many designs and need high quality mattresses within the frame to provide you with the much-needed comfort when you go to sleep. Expert furniture guides can help you find quality mattresses suitable for any make of wall beds.
Wall beds are customizable
You can easily find a suitable wall bed style, whether you want a wall bed for your personal sleeping space of built in your guest room. Modern wall beds come in a variety of colors and materials. You can find a modern wooden bed or metal rustic wall bed with all kinds of colors and finishes. You can get one built to blend into your current bedroom furnishing.