Managing a hotel can be a challenge, especially if you are new. There are many things to think about, and it can be easy to get overwhelmed. There's a lot to handle, from marketing and customer service to bookkeeping and maintenance. In the competitive world of business, it is essential to stand out from the competition. If you can find a way to make your business more efficient and easier to manage, you will be well on your way to success. This article will discuss some useful hacks to help you operate your hotel easier and trouble-free.
1. Choose the Right Property Management System
A property management system (PMS) is software that helps you manage your hotel. It can be used for various tasks such as booking reservations, managing guest profiles, and tracking housekeeping tasks. Good hotel PMS systems will make your life much easier and help you run your hotel more efficiently. Since there are so many different PMS systems on the market, it's essential to research and choose the right one for your business.
When looking for a PMS, consider your specific needs and find a system with all the features you need. It would help to consider the price, as some systems can be pretty expensive. However, remember that a good PMS will pay for itself in the long run by making your life easier and helping you run your hotel more effectively.
2. Keep up to date With Trends and Hospitality News
Keeping up with trends is vital in any industry, but it's especially crucial in the hospitality industry. Things change quickly in hospitality, and if you're not up to date on the latest trends, you could be at a disadvantage. Knowing what's trending in the industry helps you better understand the needs of your guests and how to appeal to them. It also allows you to stay ahead of the competition and always at the forefront of the latest trends.
One great way to stay up to date on hospitality news is to follow industry leaders and experts on social media. Twitter is a great platform for this, as it's easy to quickly scan through tweets and get the gist of what people are saying. You can also set up Google Alerts for key terms related to the hospitality industry to receive email notifications any time something new pops up.
3. Have a Good Marketing Strategy
A good marketing strategy is essential for any business, but it's vital for hotels. After all, if people don't know about your hotel, they're not going to book a room. There are a lot of different marketing channels you can use to reach your target guests, and it's crucial to find the ones that work best for your business. Every hotel is different, so there's no one-size-fits-all solution.
Common hotel marketing channels include online travel agencies (OTAs), hotel booking websites, social media, and email marketing. You can also reach potential guests through traditional channels such as print advertising and television commercials. It's essential to experiment with different marketing channels to see what works best for your business.
4. Foster a Good Relationship With Your Employees
Your employees are the face of your business, and they have a lot of influence over the way guests perceive your hotel. That's why it's so important to foster a good relationship with your employees. If your employees are happy, they'll be more likely to provide excellent customer service, which will lead to satisfied guests.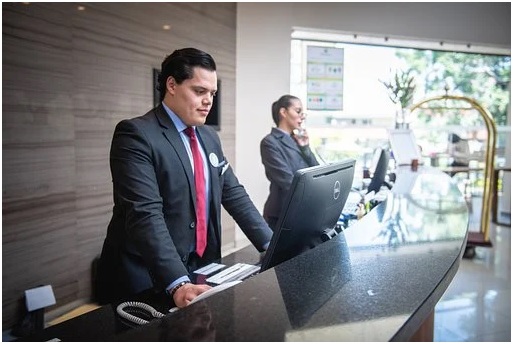 You can do a few different things to foster a good relationship with your employees:
Ensure you provide them with the resources they need to do their job well. This includes things like training and support.
Create an environment where they feel valued and appreciated. This can be done by offering things like bonuses and incentives.
Make sure you communicate openly and honestly with your employees.
5. Always Be Prepared for the Unexpected
No matter how well you plan, there's always a chance something will go wrong. That's why it's so important always to be prepared for the unexpected. Whether it's a last-minute cancellation or a power outage, you need to have a plan for handling it.
One way to be prepared for the unexpected is to have a contingency fund set aside expressly for emergencies. If something goes wrong, you'll have the money you need to fix the problem without dipping into your operating budget. You should also have a solid crisis management plan to know what to do if something goes wrong.
6. Make Use of Technology
Technology can be a huge help when it comes to managing your hotel. From online check-in and check-out to mobile apps, there are many ways technology can make your life easier. Online check-in and check-out are a great way to save time and improve the guest experience. Mobile apps can also be beneficial, as they allow guests to book rooms, view restaurant menus, and even order room service from their phones. If you're not already using technology to help manage your hotel, now is the time to start.
7. Keep Your Guests Happy
The most important thing is to keep your guests happy. If your guests are happy, they're more likely to come back and recommend your hotel to others. You can do a few different things to keep your guests happy.
First, make sure you provide them with the services they want and need. This includes things like Wi-Fi, cable TV, and daily housekeeping. Second, go above and beyond to exceed their expectations. This could be as simple as leaving a handwritten note in their room or offering a complimentary upgrade. Finally, make sure you're addressing any concerns or complaints they have in a timely and professional manner.
By following these tips, you can be sure that you are taking the necessary steps to improve your hotel management skills. By doing so, you'll be able to better manage your hotel, which will lead to a more successful business. Remember to create a positive working environment for your staff. This will also help you retain employees and train new employees more effectively. Finally, don't forget the most important part: the guests. Keep them happy, and they'll keep coming back.