Are you thinking about selling your house? If so, it's important to consider all of the factors that go into a successful sale. This blog post will discuss six things you need to think about before putting your house on the market. Read on for more information!
Assess Your Situation
People sell their homes for many reasons and you always need to consider your personal situation before putting your property on the market. Make sure to learn how to sell a house in foreclosure when the mortgage is closing down. In some cases, you may find that it's more beneficial to keep the property and rent it out.
When, for example, you've been transferred for work or your family is growing and you need more space, it's time to start assessing the situation. You may have already started thinking about all of the logistics involved in selling a house: finding a real estate agent, staging your home, and packing up all of your belongings. But before you get too ahead of yourself, there are six things you need to consider before selling a house.
First and foremost, consult with a real estate agent to get an idea of how much your home is worth. This will give you a starting point for negotiations when it comes time to sell.
Hire An Agent
A good real estate agent will have a solid understanding of the current housing market in your area. They will also be familiar with recent sales of similar homes in your neighborhood. This information is important when it comes to pricing your home correctly.
If you overprice your home, it may sit on the market for months without any offers. On the other hand, if you underprice it, you could end up leaving money on the table. A good agent will help you come up with a competitive asking price based on recent comparable sales data.
Another important role your agent will play is marketing your home effectively. In addition to listing your property online, they should also be prepared to hold open houses and coordinate showings with potential buyers and their agents. A good real estate agent will also have a network of other agents they can reach out to in order to market your home to a wider audience.
Selling a home is a big decision and hiring a professional real estate agent is an important part of the process. Be sure to interview several agents before making your decision. Ask each one about their experience, their understanding of the current housing market, and their marketing plan for your home.
By taking the time to hire the right agent, you can help ensure that your home sells quickly and for the best possible price.
Fix The Place Up
You have to make your home more attractive, so call an inspection to see what things need to be improved. When you're fixing the place up, do the following things;
Fixing any cracks in the foundation
Fixing any leaks in the roof
Painting the walls
Fixing any holes in the walls
Fixing any doors that don't close properly
Fixing any windows that are broken
Fixing the plumbing
Fixing the electrical wiring
Fixing the heating and cooling system
Fixing any leaks in the walls
Improving the curb appeal
Fixing anything that is broken or needs to be replaced
By fixing these things, you will make your home more valuable and increase its curb appeal. These are just some of the things you need to do before selling your house. If you take care of these things, then you'll be well on your way to a successful sale.
Advertise The House
In order to attract buyers, you will need to advertise the house. You can do this by listing it on websites like Zillow or Trulia. You can also put up flyers in your neighborhood or take out an ad in your local newspaper.
Be sure to include photos of the house and a description of its features. You should also include information about the surrounding area, such as schools, parks, and shopping centers.
If you are advertising the house on your own, be sure to use language that will appeal to potential buyers. For example, if you are selling a family home, you might want to say that it is "close to good schools" or "in a safe neighborhood." If you are selling a fixer-upper, you might want to say that it is "a great investment opportunity."
Advertising the house is an important step in selling a house. By taking the time to advertise the property correctly, you will be more likely to attract buyers and sell your home quickly.
Set A Reasonable Price
Be realistic with your asking price. Look at your competition, and find a real estate agent that you trust to help you set a listing price. An overpriced home will languish on the market.
You also need to be aware of your motivation for selling. If you're selling due to a life event like a job transfer or divorce, you may be more motivated to sell quickly and may be more willing to negotiate on price. However, if you don't have any pressing reason to sell, you can afford to wait for the right offer.
Finally, don't forget about the costs of selling a home. From repairs and renovations to real estate commissions and legal fees, there are a lot of expenses involved in selling a house.
Negotiate The Offers You Get
Learn how to negotiate a better offer on your home. The first step is to know what you want. What's your ideal outcome? Are you looking for a fast sale or the highest possible price? Once you have an idea of what you're hoping for, you can start negotiating.
Next, pay attention to the market. How much are similar homes selling for in your area? This will give you a good starting point for negotiating. If you're not sure what the market value is, ask a real estate agent to help you out.
Once you've considered these things, it's time to start negotiating! Remember, the goal is to get the best possible outcome for yourself. Be firm but fair, and try to come to an agreement that everyone is happy with.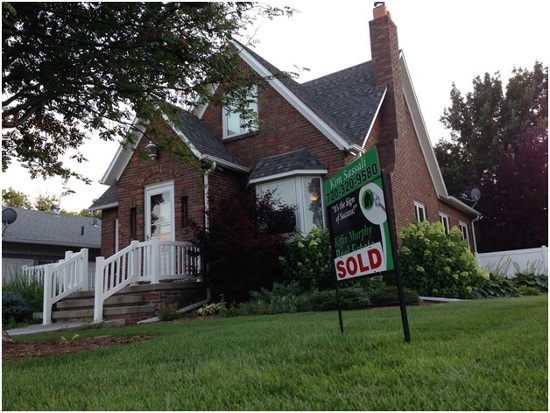 Selling a house isn't an easy job, but it's much simpler once you know why exactly it's happening. Hire a good realtor and fix up the home. Make sure to advertise it on credible websites and set a reasonable price so people would entertain the idea of buying your property. Finally, don't settle on the first offer, but rather negotiate so that you get the best possible deal!