Photos make perfect decor pieces and space fillers for your living room. Having a personalized photo display in the living room adds a cozy, personal touch. As well as setting the tone of your decorating style, it links all the elements of the living room's interior.
But when decorating your living room with pictures, many of you may feel overwhelmed. Especially if you do not know much about interior design!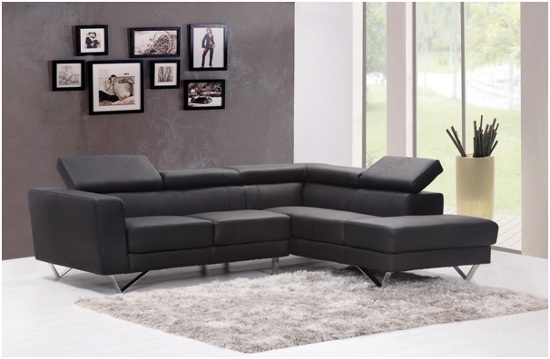 You may have many questions: Where should you display your favorite photos? What size to use? Is it necessary to wall-mount the images? Do you have to frame each picture?
We've answered all your questions and found new ideas for showcasing your favorite photos in your living room. Read on for more information.
1. Statement Wall
The statement wall or the accent wall is the one whose design differs from the other walls in the room. It is generally painted in a bold, striking color. Since this wall is considered the room's focal point, the key furniture item is usually placed against this wall.
They also serve as a great place to showcase your favorite photos to attract attention. Mount your most treasured photo or piece of art in large size on this wall. Do not place any other shelves or decor pieces near it, which will divert focus.
Pick your favorite photo carefully, paying attention to how it contrasts with the statement wall and furniture.
Besides wooden frames, you can also use canvas prints for your accent wall. Simply get your favorite photo printed on a single canvas or split-style for your statement wall. They are budget-friendly and offer a classic addition to any decor style.
2. Grid Photo Wall
A grid photo wall is a classic way to display your photos and give the walls a refreshing look. The traditional yet simple way of arranging the images can bring a timeless look to your space.
Choose anywhere from four to twelve or even more photos, depending on the size of the wall. When selecting photos, keep a similar theme in mind. Symmetry makes the grid more cohesive and aesthetically pleasing.
When placing photos on the wall in a grid style, arrange the pictures horizontally. However, you can go for a vertical grid if the wall is narrow. But ensure that no photographs are hidden from furniture, decorative items, etc.
Choose frames of the same size and color. Space all photos equally. Be careful not to place them too far apart, or you will lose the grid effect. Measure and check their symmetry with a level.
3. Stairwell Gallery
Many people neglect their stairwell while doing the rest of their home decor. But did you know that the staircase is usually the first thing people see when entering your living room from the main door? For this reason, it can be a great place to create a gallery wall of your favorite photos.
Choose from your photography collection, family photos, or travel memories for your stairwell. Try to follow a specific theme while choosing pictures for your stairwell photo gallery.
The selection of frames is dependent on the size of the stairwell. However, medium-sized frames in black color are commonly used in stairwell galleries.
You can also place your favorite photo in a large frame in the center of the stairwell. This is your dominant photo, so make sure it rises at a symmetrical angle. Then use filler frames of smaller sizes around the primary image for an attractive display. Mix up the horizontal and vertical arrangements. Space them at least 2 inches apart, but not more than 4 inches apart.
4. Over the Fireplace Mantle
The fireplace in the living room is naturally the focal point of the room. It's another ideal spot for displaying your favorite photos in the living room.
The frames that you can buy to display your photos come in various styles, colors, and designs. You can go for oval-shaped frames or rectangular wooden frames for mounting photos over the fireplace. Colors are ideal in gold, silver, copper, or aquamarine shades. But make sure they match the overall tone of your living room.
Odd number arrangements always stand out more. So, you can line up 3, 5, or 7 photos together above the fireplace. An heirloom photo or a family photo mounted high on the wall looks great, with smaller frames holding solo photos below it on the mantle.
5. Picture Ledge
Picture ledges are a very stylish way to display pictures without having to drill holes in the wall.
Overlapping is a trending style for displaying pictures on picture ledges. Since ledges are narrow, overlapping is also more space-efficient than regular side-by-side propping.
Instead of using symmetrical frames here, use varying sizes. It looks more appealing and allows you to see all the images. Place the smaller and round ones at the front and the larger and square ones at the back.
Although it's a photo ledge, it might look unattractive and dull if there are only photos on it. Decorate it with some scented candles, miniature plants, souvenirs, and glass decor pieces for an enhanced effect.
Photo ledges also allow you to rearrange your photos, frame them, or change the frames whenever you want.
6. Tables
You don't always have to hang pictures on living room walls. You can also use your reading table, bar cart, console, accent table, and TV stand to display your cherished memories.
However, it is a bit tricky to display photos on a tabletop as you don't want to overwhelm the area either. As the saying goes, the less, the better – make sure not to bunch too many items on the table.
A single frame is usually enough to draw guests' attention to the end table or console. Pair the frame with a long glass vase, scented candle, figurine, pottery piece, or book. A miniature cactus plant would also look nice.
Since these are small frames, go for zoomed-in, close-up photos of people and objects over distant views.
Conclusion
There are several ways to display photos in the living room. A few well-placed pictures and a little style sense can really make a space pop. Plus, personal touches can turn your house into a home and allow you to reminisce the memories every day. Take our ideas and create a unique photo display in your living room.