If you've decided to use a temporary staffing agency to hire temporary workers, you may wonder how much it will cost you and what services you get in return. The first thing to know is that there are different types of staffing agencies. Second, all staffing agencies offer similar services, although some may include value-adds. Finally, while it costs less to hire directly, temporary staffing services can save you money in many ways.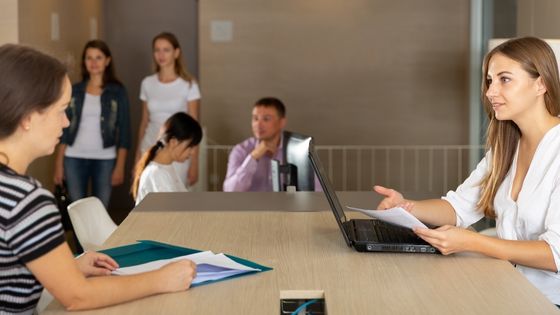 Here's more in detail about what to check for when hiring a staffing agency.
Know who you're approaching
Staffing agencies can serve many industries or focus on one or fewer sectors. If you're an IT company looking to hire developers for a short-term project, you may get better, faster results from a staffing agency that specializes in technical hiring and recruitment. However, factors like years in business, reputation, and reach also deserve attention. An established staffing agency filling temporary roles in various industries may have a larger talent pool than a recent tech-focused staffing company.
To choose wisely, make sure to research staffing agencies on parameters like history, expertise, and trust (via hiring manager and candidate testimonials).
Apart from temps, a staffing agency can help you fill temp-to-hire and permanent positions. A temp-to-hire employee is hired for a limited duration of time but can be offered a full-time position at the end of their employment term. A temp-to-hire contract allows you the flexibility to evaluate employees without having to make a long-term commitment. You'll know first-hand their capabilities and potential, and whether they fit with your corporate culture. It's reasonable to expect temp-to-hires who enjoy working for you to make an impact with the expectation that you will absorb them into your workforce.
Some staffing agencies offer direct hire staffing, filling permanent positions. This can be full-cycle recruiting, where the agencies offer end-to-end services, from creating job briefs to new employee onboarding.
A temporary staffing agency can help you find skilled or unskilled labor. If you want to increase the number of staff in your factory or warehouse, look for a staffing agency that specializes in industrial or warehouse staffing. You'll be able to fill roles requiring light labor, such as cleaning and maintenance, or heavy labor such as material handling or vehicle operators more efficiently. Ditto for roles that require a certain amount of skill or training, such as computer operators or floor managers.
Know what you're getting
The typical US staffing agency will create job descriptions, vet candidates and take care of paperwork of new hires like contracts, payroll, and taxes. What else do they provide, and how do they support candidates? Clarity on a staffing agency's services, and therefore their obligations, will spare you surprises later on.
Temporary staffing agencies are responsible for posting job ads on various online channels, including their own website. Their talent database keeps churning out qualified candidates for all the roles required by clients.
Candidate evaluation
Candidate evaluation and background screening by a third party saves your in-house team substantial time and effort. Apart from a skills assessment, staffing agencies may employ various testing methods, such as verbal reasoning, logical reasoning, situational judgment testing, language proficiency assessment, job knowledge test, and psychometric profiling to determine candidates' suitability. It's worth understanding how staffing agencies go about their candidate evaluation process, particularly if the role requires a higher level of skill and cognitive ability.
Paperwork and payroll
Staffing agencies also process the legal and financial paperwork and contracts of new hires. However, they take care of payroll – remunerating candidates directly and receiving payments from you. In the case of direct hire staffing, the agency forwards employees' documents to your HR, who then takes over payroll and conducts onboarding.
Warranty
Temporary staffing agencies are not obligated to offer a warranty to clients, but many do. This is a service level commitment vouching that a temporary employee will work for the entire duration of their contract, and perform the work stated satisfactorily. If not, the staffing agency will replace the temporary employee immediately.
Candidate services
A reputed staffing firm will direct its efforts into maintaining good relationships with candidates. A streamlined evaluation process that ensures a good job-candidate fit and thoughtfully negotiated hourly rate (the rate paid to the staffing employee) no doubt go a long way. Some firms may offer candidates a resume rewriting service and general staffing training to increase their likelihood of landing jobs or performing well in them. For example, an industrial staffing firm may provide temporary employees with the basic safety training required to do the job safely. The onus of providing site-specific training and daily supervision will be on you.
Know how you're saving
Temporary staffing services don't come cheap. But they can spare you a loss of opportunity cost. If you're growing quickly or experiencing high or unexpected demand, a staffing agency can accelerate the hiring of temporary/seasonal workers. Lack of internal resources to hire temporary workers with rare skill sets? A staffing agency is your best bet.
Filling roles quickly and with the right talent means meeting market demand, satisfying customers, maintaining operational effectiveness, preventing employee burnout, and capitalizing on business opportunities. The associated cost benefits are hard to measure, but unfilled positions usually end up costing companies a lot more than they realize.
To be fair, staffing agencies must charge clients a bill rate (a temp's hourly pay rate and the agency's markup) to stay in the red and survive. Even then, the average staffing firm makes a modest profit after paying various legally mandated amounts from the bill rate. Here's an example:
Say a temporary staffing agency quotes a bill rate of $30.70 on an hourly pay rate of $18. Apart from the hourly rate of workers, other amounts deducted from the bill rate include general and administrative expenses, and legally mandated labor costs such as FICA (Social Security and Medicare), FUTA (Federal Unemployment Tax Act), SUTA (State Unemployment Tax Act) and Worker's Compensation. Imagining that these costs add up to $12, the agency would make a profit of $0.70 on the bill rate.
Choose with care
Employees take companies to great heights. A strong hiring and recruitment strategy is the first step to building an effective workforce. Temporary staffing agencies are a part of the strategy. While they provide vital service, they're not built alike. Evaluating staffing agencies is well worth your time and a good choice will ensure that you have an invaluable ally for all your long-term hiring needs.