The Benefits Make for a Pleasant and Productive Experience
Collectively Americans take more than 405 million long-distance business trips every year, according to the National Household Travel Survey by the federal Bureau of Transportation Statistics.
Every long-distance business trip requires some sort of accommodation for overnight stays, and a luxury hotel is the perfect place to get a good night's rest, relax, and accomplish important work-related tasks. Check out these seven reasons why business travelers should choose an upscale hotel on their next trip.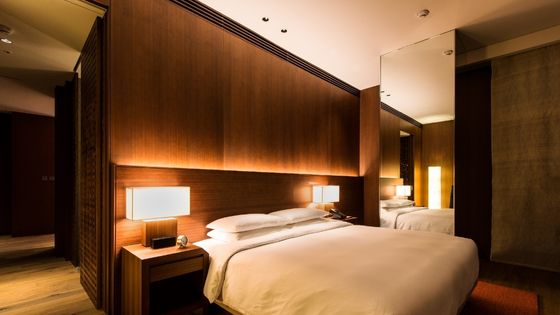 Room Service Minimizes Interruptions in the Work Day
Business travelers seeking quiet, uninterrupted time to be productive will love that luxury hotels offer room service so they don't need to stop their progress for meals.
Room service is especially great for those performing confidential work who do not wish to leave important documents unattended in their room and don't want to lug them to the restaurant.
Visit an Exclusive Fitness Center Under the Same Roof
Cardio and weight-lifting are good for the body and mind, and business travelers who prioritize their fitness or need to clear their heads will appreciate walking down the hall to visit an exclusive fitness center.
Some hotels do not offer exercise equipment, and instead require their guests to visit a local gym using a special day pass. In a luxury hotel, the fitness center is closeby.
Enjoy Elements of Fun Keep Travelers Refreshed
You've heard what happens to people who are all work and no play. When business travelers need a brain break, they'll find fun activities to refresh their mind in a luxury hotel.
A private swimming pool with cabanas, a luxe cocktail bar, virtual reality entertainment rooms, a day spa, and other amenities help business professionals unwind, mingle with other guests, and feel rejuvenated after a hard day's work in conferences or collaborating with business partners.
Delight in Comfortable Beds for Restful Nights
Luxury hotels know bed quality is a major selling point for their guests. They opt for deluxe mattresses and high thread-count sheets for ultimate comfort.
Guests who stay in luxury hotels enjoy a good night's sleep thanks to these important room features.
Work with a Dedicated Concierge
Need a lunch reservation for an important meeting? Not sure where to go to unwind after a busy day? The concierge at a luxury hotel can help guests get access to what they need, when they need it. They can call a car service, secure discounted tickets to special events, and make suggestions for dining and things to do in the area. Their connections throughout their city is unmatched by any guidebook or Internet website.
Get the Perception of Success
Business leaders who stay at luxury hotels can encourage others to perceive them and their companies as highly successful. After all, a failing business leader could never fork over the money for such expensive accommodations.
This tactic is especially important if an executive is visiting the area to close an important deal, manage an acquisition or merger, or simply make a good impression on potential partners and vendors.
Yes, Business Travelers Can Secure Good Deals on Luxury Hotel Stays
A common misconception about luxury hotels is that they're always outrageously expensive, and guests have no chance of getting a discount or deal on their stay. This simply isn't true!
Luxury hotels often offer special deals for their guests, such as bundling their room rate with credit toward the in-hotel restaurant, or getaway packages for important life events.
Savvy business travelers know to look for these deals in various places online to secure the best nightly room rate for their upcoming trips.
Tips for Booking Your Next Stay
To help to ensure you enjoy your next stay in a hotel during your business travels, follow these tips:
Book early to get the best rate and so you have your pick of hotel rooms.
When you book your room, schedule day spa services along with them, so you're guaranteed the massage appointment or sauna session you want.
Don't worry about packing your own shampoo and conditioner; luxury hotels offer better-quality hygiene items than regular chain hotels.
Join your favorite luxury hotel's mailing list, so you'll receive regular emails about the latest happenings and deals.
Join the luxury hotel's rewards program, if they have one, to earn points toward free nights or other benefits.
Book directly with the hotel, rather than through discount booking sites, for the best cancellation policies and customer service.