We live in a world where most people are too busy to cook and too lazy to dress up to go out to eat. The food industry has changed dramatically because of new social norms, technology, and marketing. People are becoming more interested in food delivery services, which, in turn, has increased the number of food delivery businesses. Food delivery businesses should take care of the following factors to grow and promote in terms of revenue.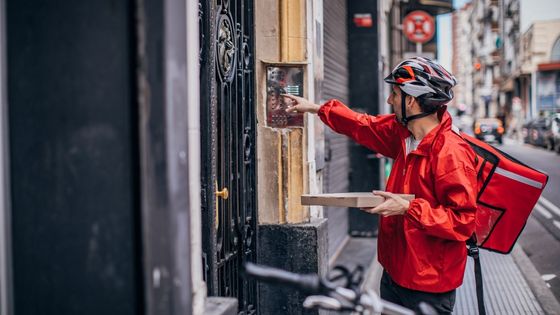 Fast delivery
Delivery is useful if you live in a busy area with office buildings, school campuses, or industrial complexes where people spend most of the day at work. They have shorter breaks and want their lunches fastly delivered to them.
Providing fast deliveries is an easy way to approach your audience. Provide daily specials so your regular customers can try new dishes without breaking the bank. Customers will be more likely to return if they know you offer different dishes daily.
Bluetooth beacons
Offline promotion methods are difficult and outdated today, but there are still some of them here to work, such as Bluetooth beacons. These beacons are Bluetooth transmitters that transmit data to nearby smart devices. These messages may contain text, media, links, and so on.
Businesses use beacons to send advertisements to people who are nearby. This technology has proven more cost-effective and efficient than traditional advertising methods such as billboards, posters, radios, etc. Beacons generate 16 times more click-through rates (CTR) than Google pay-per-click.
Online collaborations
Work with food bloggers or social media influencers to get your food in front of more people. They should also talk about your delivery services. These influencers have a hold on their audience, and you can easily access an already existing audience. They can review your food or feature your restaurant on their channels.
Website and email campaign
Online websites are also a way to promote your email marketing. They are a place for customers to register, giving you their email addresses, which you can add to your list and send marketing or promotional emails. Doing this becomes even easier with the customizable email templates available online, which make your work easier and simpler!
Compile an email list of current and new customers and send emails to entice customers to order from your website, app, or phone. You can publish a variety of content on your website or other platforms. Some types of content usage are to gain new followers or attract the attention of potential customers, whereas others help build relationships with existing clients.
Running email campaigns is easy these days as websites such as PosterMyWall provide you with everything you need for email marketing. These tools allow you to run your email campaigns easily while also helping you save time!
SEO optimization
SEO techniques work best with relevant usage of words in the particular articles to boast it. Same works for ads. It will boast if your ad consists of keywords relating to delivery and food.
Use search engine optimization (SEO) techniques to boost your restaurant's visibility on online directories and Google Maps. Use local keywords in your company name, website URL, contact information, social media accounts, and menu items.
Food directories
Sign up for food-related review websites and food directories, where you can post pictures of your food and get feedback from previous customers. They are an excellent way to generate word-of-mouth marketing and demonstrate to potential customers that your company is trustworthy.
Positive feedback can be a great way to attract new customers. You can solicit feedback from previous customers or include a line at the bottom of your receipts encouraging people to leave online reviews.
Food events participation
Many people decide to go to local events and try different food companies. Participating in food festivals and events can help you build a strong relationship with your local community. Attend local meetups and distribute free food samples. People will become more familiar with your restaurant as a result, and they may even order from you in the future. Once they like your food, they will track you to taste it.
Personalized app
A food delivery app can provide your food delivery service with many new opportunities. People now consider apps as a tool or extension of the business, allowing them to connect to services with the tap of a finger. Mobile apps can encourage first-time users to become repeat customers by allowing them to order whenever and wherever they are without having to go directly to your website.
Conclusion
We hope this helps you grow your business as much as you want. But, to follow these steps, you should ensure you can provide what you claim. Moreover, there should be customers that can vouch for your claims.