With the recent advances in the internet of things (IoT), living has been revolutionized. One benefit of IoT is the development of gadgets for your smart home.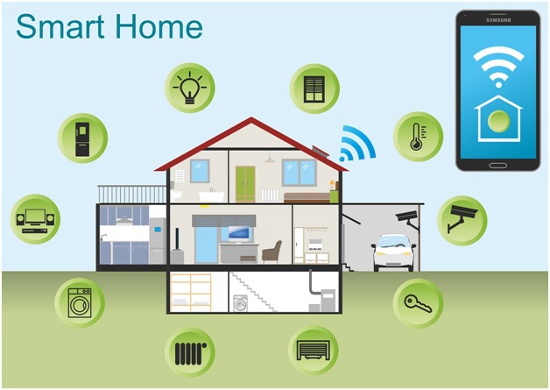 You can reap immense benefits with the right devices installed in your house. The benefits they may bring include:
A) Better home security
B) Improved energy efficiency
C) Better home management
D) More flexibility and easier customization
E) Increased safety
These are a few of the many benefits a smart home has to offer. With a smart home, living is easy and you get more time to concentrate on the things that need your attention in life. What do you require to turn your normal house into your dream smart home? We have highlighted some gadgets you should get:
1. A Smart Refrigerator
Most homes have an ordinary refrigerator for storing food and keeping beverages cold. Other than that, some families use the refrigerator door as a photo album or a notice board for messages. A smart refrigerator can accomplish that and go beyond.
Modern refrigerators come with touch screens that you can connect to your Wi-Fi network. These screens can enable you to leave notes, display pictures, and watch television shows. The smart screen can also show you what is in your refrigerator, meaning you do not have to constantly open the refrigerator door.
They also come with sensors to detect temperature fluctuations and adjust accordingly. This will help keep your food at optimal temperature and lower your energy consumption.
2. Smart Water Gadgets
In the US, household leaks waste about 1 trillion gallons of water annually. This is a lot of wastage considering the amount of energy it takes to clean water for domestic use. You should install water leak detection systems in your house.
The leak detectors can be installed at the toilet, in the basement, at boilers, and beneath sinks. They will alert you if there is a leak, therefore, you can call your plumber to take care of it. This will reduce your water bill and save you money on repairs resulting from water damage.
3. Smart Bathroom Accessories
One aspect you should consider in your smart house is comfort. Swap out your old bathtub with a new stand-alone tub and shower. You can get your freestanding tub accessories such as wine and beer holders, drain covers, and a Bluetooth speaker.
You can include a towel warmer in your smart home. Some models work for bath towels and bathrobes. You should also install modern shower heads designed to save water while giving you the illusion that you are using large amounts of water.
4. Smart Home Locks
You should install a smart lock on your door. Smart locks offer a large pool of benefits while also ensuring your house is kept safe. This is made possible by the auto-lock mechanisms and security alerts in case of a break-in.
The smart locks come with an option of keyless and keyed opening. The keyless function may support biometrics and randomization of the code. This will make it hard for a burglar to break in because each time you have to key in a new code.
The keyless feature is also convenient since you do not waste time looking through your bunch of keys. It also eliminates the risk of losing your key. This works well for kids since they can access the house. The smart lock will also save you the money you would have spent on replacing keys and locks.
5. Smart Bulbs
You should fill your house with smart bulbs if you have not already done it yet. Smart bulbs are an easy way to customize your space and create the mood you want. Most smart bulbs are compatible with mobile applications that enable you to easily alter the color of the specific bulb.
Smart bulbs will also save you the trip around the building by switching off your lights easily through your home manager. Did I mention that smart bulbs are also energy efficient? Smart bulbs give your home a sleek look and reduce your overall power consumption.
6. Smart Smoke Detectors
You probably have a smoke detector in your home but you should swap it out for a new smart smoke detector. This is because most of the older models of smoke detectors are battery-based. This means that between a dead battery and the time you take to replace it, there is a fire risk that goes undetected.
Smart smoke detectors also come with a carbon monoxide detector. The sensor will inform you if there is a rise in CO levels in your house. This can save your life.
7. A Home Management Panel
When you have multiple smart IoT gadgets in your house you should buy a home management panel. The panel will help you gain control over all your smart home appliances from one gadget. Using a smart panel, you can:
Control the lights inside your compound
Control smart wall sockets
Set temperatures for different rooms
Schedule when to draw curtains
Access the intercoms
Control all your smart locks
Get notifications from your devices
A smart management panel will give you greater control of your home while maintaining your comfort.
8. A Smart Speaker
Amazon Echo and Google Nest are some of the most popular smart home speakers. Apart from their music playing capabilities, they can act as assistants. Smart speakers are a gateway to a voice-controlled smart house.
The smart speakers can process simple commands that include ordering food, setting timers, and reading your calendar schedule. They can also entertain you by telling stories, playing music, and answering questions. You can also pair your speaker with devices in your house and control them using voice commands.
Conclusion
Get your house as many smart devices as you can afford. Smart devices will help you have a better experience at home while saving you money on bills. Also, ensure you buy home products from a respectable dealer.
You should buy products from brands that are known to produce quality products and offer a warranty. Make sure you ask about the compatibility of the new product with products you have at home. This will help you integrate products onto your management panel easily.