Previously, the fashion industry was majorly focused on stores and selling products offline. Garnishing their brand's reach was a turtle's race for them. But with the evolution of this industry, trends shift as swiftly as seasons, which is why establishing a distinctive online presence is vital. The advent of eCommerce has made it possible for a fashion business to take the digital approach and build its virtual presence on the internet.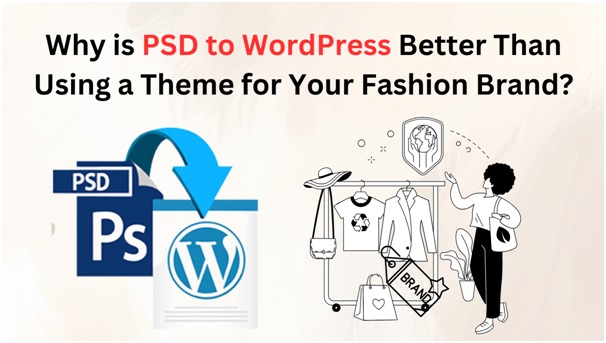 Your fashion website is more than just a digital showroom; it's your business's virtual storefront, the first touchpoint of the global audience with your brand. In this digital age, where first impressions matter, the question arises: should you settle with the ordinary or invest in the conversion approach? This is where the debate between employing pre-made themes or selecting design-to-code conversion unfolds.
However, new trends offer new opportunities, such as PSD to WordPress theme conversion. Whether it is a small, medium, or large enterprise today, every business opts for PSD to WordPress conversion services.
Reasons to Opt for PSD to WordPress Conversion
This conversion process is excellent for business. From helping a business establish a distinctive presence to showing creativity, opting to convert PSD to WordPress has various benefits. There are some reasons why a business should consider Photoshop to WordPress conversion over pre-built themes. These are as follows:
1. Professional and Unique Designs
Undoubtedly, a unique online presence plays an important role in garnering a robust online presence among customers. This attracts a broad range of users towards your brand, increasing online traffic and ultimately enhancing your online presence.
Opting for PSD to WordPress Conversion services is considered a unique way to develop a professional presence. This empowers a business to incorporate unique details holding the major importance of your fashion brand, allowing you to create your website's look, feel, and functionality the way you want.
2. Hand Coded Markups
Today, there are various software available in the market that are helpful in converting Photoshop design files into a WordPress theme. But, these are as reliable as a car without petrol. This means that none of the software produces as high-quality conversion as hand-coding.
Hand-coded semantic markup done by professional PSD to WP conversion providers maintains quality in coding. This semantic approach to web markup makes your website search engine friendly and loads faster.
3. Pixel-Perfect Conversion
The majority of the pre-built themes often lack the crucial aspect, which is pixel-perfect design. Pixel perfection is just as important as semantic markups. This is where choosing the design to code conversion enables a fashion business to achieve it. The process of converting designs to pixel-perfect themes encompasses various stages, from chopping to slicing.
4. Cross-platform Compatibility
Pre-made themes are not tailored to the specific requirements of any business, which ensures that these themes lag in one thing or the other. Cross-platform/browser compatibility is sometimes an unseen factor in the pre-built themes.
On the other hand, converting a design to a WordPress theme ensures compatibility with cross-platform/browsers. This is because the conversion process undergoes the required testing, ensuring the efficient working of a theme on every browser and platform.
5. Web Standards Compliance
When you are choosing a pre-made theme, what you see is only its preview to look at it. Demos do not guarantee that the particular theme will work efficiently and is worth investing money in.
A WordPress theme that works flawlessly must adhere to W3C standards and WordPress coding standards. This is only possible with custom development, where slicing and hand-coding provide efficient value for your website.
6. Time and Cost-effective
Users purchase, download, and upload their theme to WordPress via its Dashboard. These pre-built themes are developed for general use, which states that you have to modify or edit the theme that will relate to your business appeal. Removing and adding diverse things from the theme to make it more suitable for your business is time-consuming.
However, with PSD to WP conversion, there is no need for additional customization. All the required changes or the demands of your designs are already incorporated in the development.
7. Performance Enriched
When Photoshop designs are converted into a functional WordPress website, it results in performance-enriched web development. During the conversion process, the size of the images can be optimized for web use without compromising on quality.
This results in improving the page load time of your website. Also, professional PSD to WordPress conversion services ensure clean and well-structured code, helpful for search engines to understand the content and improve performance.
8. Offer High-end Security
Manually coded websites/ themes are often more secure than pre-built ones. This is because of various practices and considerations that are helpful in enhancing the security of the website. When you hire WordPress developers, they typically follow secure coding practices. This includes sanitizing data inputs by using secure coding standards, which is helpful in protecting common web vulnerabilities.
9. Flexible
Another reason to go for PSD to WordPress conversion is that it offers maximum flexibility and scalability to a business. This means your web solution will also do when a business touches new milestones. Custom development ensures a business creates a fully customized and unique website design that can be altered to the specific needs of a business.
Conclusion
The fashion industry is ever-changing, and brand identity reigns supreme. Opting for a custom WordPress website through Photoshop design conversion is an excellent choice. This empowers a fashion business to create a user-friendly web presence over the web.
However, this conversion process is complex and requires a business to partner with the right WordPress development service provider. Their hand-coded semantic markups and pixel-perfect conversion techniques will help a business maintain the integrity of its original designs.