When you have a child graduating high school, you want to announce it to the world to let everyone know how proud you are. Your child has spent over 12 years preparing for this moment, and there were, no doubt, many rough times and sleepless nights getting your child to this point. Senior graduation announcements are a great way to let everyone know. If this is your first child to graduate, you may feel lost regarding making one or what to write in it.
While graduation announcements can be ordered and professionally made, those are expensive, and the process to make one is far easier than most realize. Companies like Mixbook make it easy to create the announcement online and have printed copies delivered to your house.
Here are three things to consider when deciding what to put in your child's graduation announcement.
Identifying Information
So that the recipient knows who it is from, remember to include your child's full name and the high school they are graduating from. You should also have what graduating class they are part of, and if you want to add images, you can include your child's senior photo or an image of the school mascot. Suppose you are including an invitation to the graduation or the graduation party with the announcement. In that case, you can add that information to the announcement or place a separate invitation in with the announcement.
Special Recognition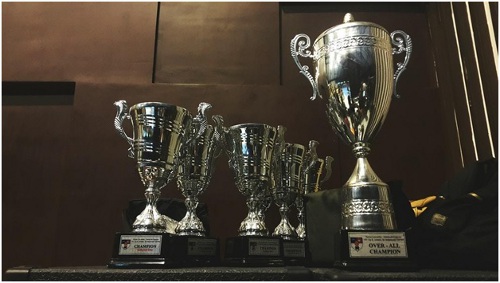 If your child is ending their school year with special awards or recognitions, you can add that information to the announcement. Special recognition may include academics, sports, or extracurriculars. If your child was involved in many things and earned many awards, you can cut the list down to the ones your child is most proud of. You can also include a sentence about their post-graduation plans, like what college they plan to attend or if they received a significant scholarship to go to a particular school. For example, you could write, "He has received a scholarship for cheerleading to attend the University of Texas." Another example is, "Due to high academic honors, she has received a full-ride scholarship to Oberlin College."
Personal Message
A personal message can be added from you as the parent. The message can express how proud you are of your child and how happy you are to share this news with friends and family. You can have your child write a sentence about their accomplishment to be included in the announcement if they want to. The more personal you make it, the more sentimental it will be as a keepsake of the event. You can choose a poem or a quote from your child's favorite book growing up. You can also choose song lyrics. There is no wrong answer when it comes to what you can consider personalizing the announcement with. The important thing is to make it personal to your child. Choose their favorite colors or designs for the announcement or the watermark on the paper. If your child is artistic, you can make a simple drawing and turn that into the watermark on the announcement.
Creating the graduation announcement should not cause stress or anxiety. While some may assert that the announcement should look specific or have particular words, there is no right or wrong way to create it. Focus on the joy and pride you have for your child and go from there. This is one of the many ways you'll be able to celebrate your child during this time. You can have your child help create it, or you can make it as a surprise for them.