Recently, there has been much praise for paraphrasing tools on the internet, and they deserve it.
Nowadays, paraphrasing helps writers all around the world create good quality content that is engaging and easy to understand.
Google is quite strict in terms of web content and remains picky about what goes well on the internet and what does not.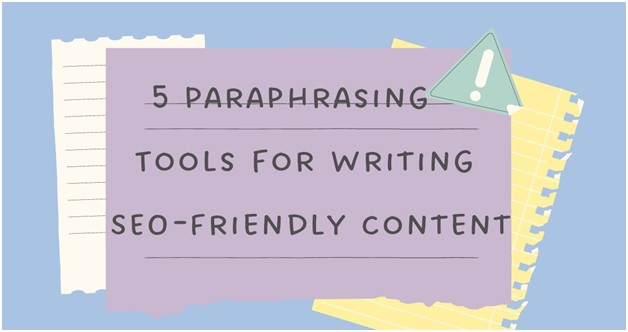 In simple words, Google is very quality conscious when it comes to content.
It also instructs webmasters, SEO professionals, and writers to create and publish content that is not only of the highest quality but also very user-friendly and worth the reader's time.
What exactly is Paraphrasing!?
It can be used for many purposes: to understand what someone has said, to show understanding of their ideas, and/or to help you remember key points from the original source material.
5 Top Paraphrasing Tools for Writing SEO-Friendly Content
A rephraser, more commonly known as a paraphraser, is a tool that rephrases your text to make it unique and original.
It can be used by anyone who wants to write an article or post on a website, blog, or social media page.
1. Quillbot
The best rephraser, grammar, punctuation, and spell checker available on the internet is Quillbot, which can instantly rewrite any sort of written content to make it more effective.
Anyone can complete their academic and professional tasks, such as creating and revising emails and final papers, website content, or just a simple essay, with the help of this smart tool.
Using the rewriter and other intuitive features on Quillbot will help you write better and produce more engaging content.
Quillbot's AI paraphrasing tool conveniently integrates with Google Docs, Microsoft Word, and other digital platforms for stress-free writing style improvement.
Webmasters and other SEO specialists can use this tool to audit web content and revise it as needed.
The free plan for this tool includes the following:
Quillbot's free version provides basic writing suggestions that will immediately improve your writing:
Text Rewriter
Spelling checker
Writing Statistics
Multiple Platform Integrations
Grammar and punctuation checks
High Quality and Human Readable Content
This smart AI paraphrasing tool helps users modify content and refine it.
Rephraser helps you rewrite your sentences in a different way and fixes grammar, punctuation, and spelling mistakes so that you can concentrate on the message.
You can rewrite and rephrase your sentences with just one click to make your writing clear, interesting, and real, whether you speak English as your first language or not.
The most suitable synonyms are created by converting the inserted text while maintaining its meaning.
Any user can use a rephraser to revise the original content with better synonyms and sentences.
It allows you to reword multiple texts with greater clarity and without disturbing the intended meaning.
Another very good benefit of this tool is that it can be used in multiple languages, such as English, French, German, and a few more.
The tool is entirely free to use and can be easily used on any device.
The following are a few features:
Simple UI
Easy to Use
File Export Option
Good Compatibility
Reliable and Precise
No subscription or sign-ups required.
High Quality and Human Readable Content
3. Wordtune
Wordtune is a very popular and reliable online paraphraser and content editor tool that can help anyone refine their writing.
It provides the user with multiple insights on their input, from grammar correction to punctuation and tone. You can modify the output text to be as you want.
To ensure that the final rephrased text sounds as clear and refined as possible, Wordtune's paraphrasing logic takes thousands of decisions in the backend, such as examining the context of your words.
With the help of its intelligent algorithm, Wordtune can help you examine various writing styles to find your voice.
Whether it is the entire sentence, a phrase, or just a single word, the rewriter feature suggests different ways to phrase your text conveniently.
4. Coder Duck Paraphrasing Tool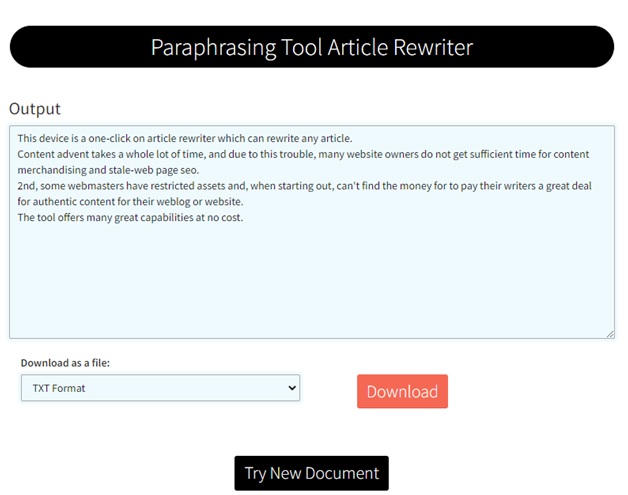 This tool is a one-click article rewriter that can rewrite any article.
Content creation takes a lot of time, and due to this problem, many site owners do not get enough time for content promotion and off-page SEO.
Second, some webmasters have limited resources and, when starting out, cannot afford to pay their writers much for original content for their blog or website.
The tool offers many extraordinary features at no cost.
Just paste any article here and let the tool generate high-quality human-readable content in just a few seconds.
The following are a few features:
100% free
Simple UI
Easy to use
Works on all browsers
File Download Options
Supports multiple languages
No signup or registration is required
5. Paraphrssase-online.com
An excellent, quick, and free paraphrasing tool with good results is called paraphrase-online.
You can quickly and completely freely reword essays, phrases, articles, sentences, and single words using this tool.
Text is easy to rewrite for a blog, website, business document, or whatever else you need.
This tool was made for writers, teachers, students, bloggers, SEO professionals, and anyone else who needs a new text editor to help them with their work.
It has a simple interface that is both easy to use and convenient.
Creativity has never been easier or more accessible.
The following are a few features:
Free
Easy UI
Accurate
Easy to Use
Good Accessibility
• Paraphrasing Tools Offer the Following Benefits:
Paraphrasing tools help you write in different ways to express yourself.
These paraphrasing tools also serve as a great communication aid.
These paraphrasing tools are perfect for people who have written materials, such as blog posts or articles.
They need to edit them for grammar or simply improve the overall quality and feel of the content before publishing it online.
Paraphrasing Tools can help you do the following:
Sound much fluent
Write with confidence
Refine and increase vocabulary
Make excellent vocabulary selections
Helps write a finer, clearer message with perfect intent.
Reduce the time you spend editing and perfecting content.
Conclusion:
Paraphrasing is the act of taking someone else's content, ideas, or definitions and using them in your own writing, but with a different context, meaning, style, tone, etc.
Paraphrasing tools can be used for a variety of things, including understanding what someone has said, demonstrating your understanding of their viewpoint, and/or aiding in the retention of important details from the original source.
With these tools, you can refine the writing experience, save energy and time, and focus on your ideas and your goals.
Rephrasers go way beyond grammar and writing assistants, offering entirely new capabilities thanks to cutting-edge AI technology that fully comprehends context and semantics.