Your websites, SEO activities and online promotional tactics do not have to be bound to Google. There are several other search engines that you can use. You might have not even heard of some of these search tools and you will be surprised to know just how efficient and feature-rich they all can be. Following is a list of 10 search engines that can work as the perfect substitute for Google.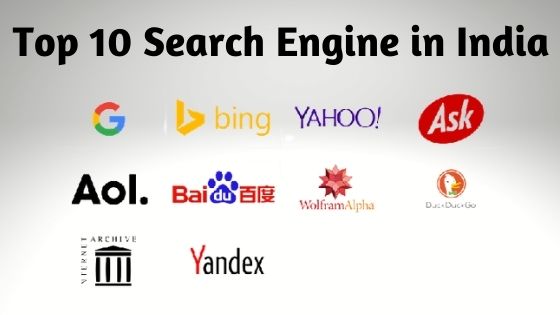 1. Bing
Bing is a powerful search engine powered by Microsoft. It has a lot of features that make it the second most preferred choice of users around the world. You can perform a typical keyword research just like in any other search engine. You can find videos, photos, maps, GIFs, music, various products and services and much more. This search engine has its origin in Msn Search and Live Search which were also introduced by Microsoft.
2. Wolfram Alpha
This search engine is a privately owned search tool and comes with innovative and advanced algorithms. The knowledge base attached to it and artificial intelligence integration make this search engine the number one choice for answers related to mathematics, science and technology, society and culture as a whole and your everyday life. You will also be able to find answers to several queries within these categories and their subcategories.
3. Boardreader
As the name suggests, Boardreader is a search engine that is quite useful for forums and message boards. It is a very useful search tool for writers and researchers because it presents to them useful content written by real users on every possible topic.
4. Quor
Quor is also one of the leading search engines today in the market. A lot of people do not know about it yet because it is relatively new. According to a study, Quor search engine will have crawled more than 20 billion pages by the middle of 2021. The most unique feature of this search engine is that it has artificial intelligence ingrained into its code. It warns its users on a real time basis about malicious content and harmful websites keeping them away from paid and targeted advertisements and irrelevant content.
5. Yahoo!
There was a time when Yahoo! was the undisputed leader in the online search industry. Google and Yahoo! used to be neck and neck once upon a time. As the years passed by, Google became the king of online search while Yahoo! was categorized as an "outdated" search engine. It is still being used by a significant portion of users across the world. Powered by Microsoft's Bing, Yahoo holds a sizable portion of the global search market even today.
6. Twitter
No doubt that Twitter is one of the most popular social media networks and a microblogging site but over the past few years, Twitter has emerged as one of the leading search engines of the present times. When it comes to speed and getting news on the latest topics and probably the most trending highlights of the season, Twitter is a very efficient and powerful search engine. You can find opinions and reviews, blogs and articles, live feeds and reactions on the latest news and even the minutest updates happening around the world on this one platform.
7. Startpage
Not many people know that Startpage is one of the search engines distinctly known for offering unparalleled security features. The biggest question attached to Google is regarding its safety and that concerns a lot of users around the globe. This is not the case with Startpage. Say goodbye to tracking IP addresses and cookies that monitor user behavior to keep you engaged with paid advertisements popping up every now and then.
8. Ecosia
Looking for a search engine that comes with a noble purpose? Ecosia was created to help the environment and fight climate change around the world. This search engine is also powered by Bing and donates around 80% of its profits for the purpose of tree plantation and environmental awareness programs. Did we mention that Ecosia offers privacy features that are nowhere to be found in Google? This search engine does not sell data to third party advertisers and this is what makes it super private and efficient.
9. Swisscows
Seems like the list goes on and on when it comes to looking for privacy centric search engines. Clearly this search engine is based in Switzerland. It is also powered by Bing but uses its own indexing technology. Privacy is the most important feature of Swisscows search engine. It automatically screens content for any violent or pornographic material and artificial intelligence enables users to find high-quality search results within just seconds of query input.
10. Seznam
Founded in 1996 in Prague, Seznam is the brainchild of Ivo Lukacovic. What began as a simple search engine quickly developed into a financial, social and political news portal. It has its own TV programs, dictionaries, maps and weather forecast services as well. Today Google holds 84% of Czech Republic's market share while the remaining 16% is with Seznam and other small players.
These were 10 awesome search engines that you probably didn't know about until now. They are being used in India as well as around the world. Who says that Google has to be your only search tool?