Sending emails is the most comfortable way of communication. Generally, it starts on a personal basis and becomes professional in nature. Gmail has dominated the email platforms. But, you can't deny that Yahoo Mail is still a competitive platform. In reality, it is one of the most popular email providers, with 228 million active members in 2018.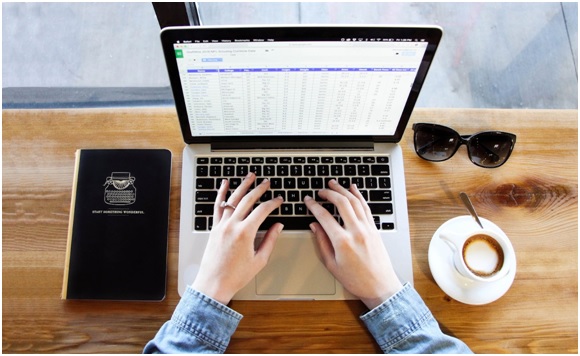 Many professionals find it necessary to copy emails from Yahoo Mail to an Excel spreadsheet. Most business owners and email marketers also have several email accounts on different services. To manage their email data, they transfer emails from one account to another or even to a single Excel file.
Exporting emails from Yahoo Mail to an Excel sheet can be handy at times. This article will give you the full details on how you can do that. But before that, you need to understand why copying emails to Excel sheets is important. It also helps to know what CSV files are since they are important in the procedure.
Why Should You Copy Yahoo Emails to Excel Sheets?
If you want to keep up with the competition, MS Excel is one of the tools that can help you with that. But there are only a few professionals who know its full capabilities. In fact, 1 in 8 people asks colleagues for help with Excel every day. That's where Excel spreadsheet training courses come into play.
When you're knee-deep in data, don't dive without knowing advanced functions. Keep your head above water by learning from Excel experts. No matter how much you know or don't know, it has something up its sleeve that can do the job. Hands-on training will boost your expertise in email and data management.
Using MS Excel to store emails makes sure that the quality of your work is not compromised. Here are some of the reasons why you should copy your Yahoo emails to an Excel spreadsheet:
Businesses want to learn more about their regular customer's preferences. They do this by copying emails from Yahoo to Excel sheets. This also helps you determine new users.
Moving Yahoo Emails to Excel is an excellent way to keep track of your data.
You can access your Yahoo emails offline by saving them in Excel format. That means you can get data at any time and from any location.
Saving a copy of your emails in Excel can help you make a seamless switch to other email service providers.
What Are CSV Files and How Are They Useful in Excel?
CSV or Comma Separated Values are written in plain text, making them independent of the program you're using. It displays data in a tabular format, which makes it useful for different spreadsheet programs. CSVs are like regular spreadsheets but have the ".csv" suffix.
Working with CSV files is unavoidable if you have used Excel for a long time. You can use these files for different business purposes. Mostly, you can use them to export large amounts of data, like emails, to and from a database.
As an e-commerce business, one of your goals is to reach a huge number of customers. You can alter CSV files in different ways since they are easy to organize.
For example, it is helpful when you buy client data from a social networking platform. The customer information sent to your database will more likely be in CSV format. This makes data sharing quick and simple. CSV files are easy to convert to other file types, such as Excel files.
Steps in Copying Yahoo Emails to an Excel Sheet
You need to export contacts from Yahoo Mail if you want to switch to other service providers. There are two ways you can do this: using Yahoo's built-in tool or using third-party solutions. In this section, we will first discuss how to use the built-in tool to transfer Yahoo emails to Excel format.
1. Start by running Yahoo Mail. Once you've opened the software, click the contacts icon on the right side of the platform.
2. After clicking the icon, you will see your contact list. Click the three dots, which is the options menu, as shown in the picture below. This will give you more options as to what you can do with your contact list.
3. Select the option where it says, "Export to CSV file."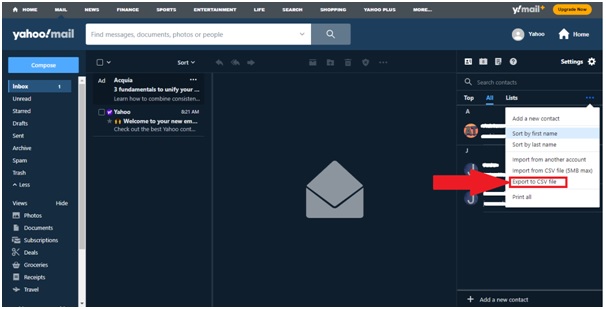 4. After doing so, your contact list will be extracted to an Excel sheet in CSV format. The Excel sheet will show you important information about your contact list, like their names and email addresses. It's important to note that it only shows the information that you put in when you were adding the contact in your Yahoo Mail.
Yahoo Mail to Excel Sheet Solutions
Exporting emails from Yahoo to MS Excel using the platform's built-in tool is easy. But there are limitations to it. As you can see, extracting emails using the built-in tool will give you all the contact data saved on the platform. What if you only need the email addresses?
In this case, you can use third-party solutions as they are more flexible and reliable. Here are some of the Yahoo Mail to Excel sheet solutions that you can use.
1. Advik Email Migrator
Advik Email Migrator is the most sophisticated solution for all types of email data storage needs. You can move emails from one account to another. It also gives you access to all your basic and complex email migration needs. You can also transfer emails from any email application.
The tool also allows you to save emails to your computer in different file formats. You can later open them in Excel sheets. The best feature of this wizard is how simple it is to use. You don't need technical skills to do basic email migration.
2. Recovery Tools Yahoo Mail Backup
Recovery Tools is a one-stop shop for all your Yahoo backup needs. It converts Yahoo emails to more than 25 different email formats. After backing up your Yahoo emails to a hard drive, you may access them using a variety of services.
The application includes a comprehensive range of options that improve the success rate of data backups. This program allows you to export several Yahoo Mail account mailboxes to an Excel file at the same time. The app works with all versions of Microsoft Windows and Mac OS systems.
3. Email Backup Wizard
The Email Backup Wizard is another excellent email backup software program. It allows you to store emails from any server in a matter of seconds. It also makes email backup accessible from any web or local service. This program makes it easy to export, import, and migrate emails between email providers.
Stay Ahead of Your Competition
Today, we are living in an era where competition is increasing day by day. There are thousands of companies running online businesses. Lots of them are trying to get the attention of customers. And they all have one thing in common: they rely on a comprehensive database to function.
By now, you should start using them for your business insights. MS Excel helps manage your business data for a more seamless operation. But it's not just about collecting mail. It's also about knowing how to use these messages and turning them into something beneficial for your business.
The more you maximize your email database, the more clients you will find. As you have seen, you have to be wise to use Excel. Enrolling in Excel training courses will help you take advantage of the program. By doing so, you can use your knowledge of how things work to do more for the success of the company.