Are you looking to buy a new headset but confused because of the many choices? Well, one must go with a reputable brand like Sennheiser to fulfill the headset requirements. Sennheiser headphones are the best in comfort, durability, sound quality, and performance.
However, one must compare all the available options based on their features. In addition, the selection also depends upon personal preferences and use cases. All these details help to figure out the best headphone for a user. So, let's take a look at some of the useful tips to buy a suitable Sennheiser headset.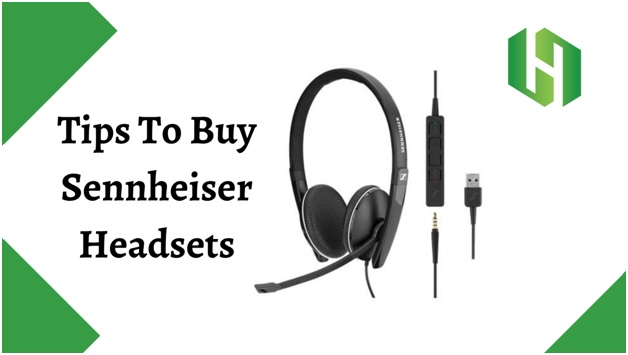 Useful Tips To Buy Sennheiser Headsets
Compare The Features
It is important to compare the features of the Sennheiser headsets because it helps to figure out a suitable one according to the user's requirements. For instance, the Active Noise Cancellation (ANC) feature incorporates dedicated speakers inside the headset to control the unwanted noise. So, if one has to use the headphones in noisy environments; make sure to pick the one having this feature.
Similarly, there are various features like sound quality, connectivity, type of ear cushions, etc. that must be considered while making the headphone selection. For this reason, a headphone perfect for one individual may not suit the use case of another.
Firstly, have clarity about your requirements. Afterward, check and make sure the headphone you are planning to buy fulfills those requirements. In this way, a good headset selection can be made.
Check Microphone Quality
A good microphone ensures that one can effectively communicate with the help of the headset. The reason is good quality microphones offer high-quality sound. Hence, the voice stays sharp and at proper loudness levels to ensure a good experience for both the speaker and the listener.
Microphone quality is especially an important factor to consider for the businesses providing their services for customer support, call center, etc. For this reason, Sennheiser headphones with good quality microphones are used in various industries to showcase a good level of professionalism.
To check the headset's microphone, one can make a test phone call. This way, a user can judge the microphone quality and buy an appropriate one. However, some use cases like listening to music don't require a high-quality microphone. Therefore, keep the usage scenario in mind and select a headphone accordingly.
Ensure Good Audio Quality
The audio output is hands down the most important feature of a headset. For this reason, the majority of the headphone usage experience depends upon its audio quality.
A Sennheiser headset with good audio quality makes sure that the user gets decent multimedia and calling experience. Also, keep in mind that some headsets only come with a single earpiece. As the sound output is only for one year, audio quality becomes more important.
Moreover, if you want to buy headphones for music or multimedia purposes, look for the ones with stereo sound for a better experience.
Furthermore, if one plans to use the headset with a smartphone or a portable music player; ensure that its impedance is low (16-32 Ohm). Because a headphone with lower impedance requires less power for sound amplification. Consequently, they work well with low-power devices like a smartphone.
Consider The Comfort
Some of the individuals use the headsets for longer durations. Therefore, it is essential that the users feel comfortable wearing them. Multiple factors influence how comfortable a headphone is. Let's check out a few of those.
● Weight Of Headset
The headset must be lightweight so that the individuals feel comfortable using them. Sennheiser headphones are not only light in weight, but also come with the good build quality.
● Size Of Ear-Cushions
Some users prefer bigger ear cushions that cover their whole ear. On the other hand, some individuals prefer the over-the-ear fit. Hence, the selection depends upon the user's personal preference in terms of comfort levels.
● Quality Of Ear-Cushions
Prefer the ones with softer ear cushions, otherwise, you may end up having ear pain after prolonged usage. Moreover, the ear cushions must be made of good quality material to reduce wear and tear.
● Length Of Cord
The headset cord must be long in length. It enables you to sit comfortably, and the headphone doesn't get disconnected again and again in between usage.
Consider Your Budget
Budget is one of the important factors that one must take into consideration while purchasing a headset. After deciding on a budget, one can filter the results accordingly. For that, you can take the help of the internet and read the blogs or watch the videos that compare the Sennheiser headsets in your preferred budget range.
The cost of headphones suitable for professional use is higher. So, it is better to invest a few bucks more to get top-notch quality. However, keep in mind to not go out of bounds to purchase a headset. Rather search and find out a suitable alternative in your preferred price bracket.
Look For Offers And Online Deals
Online sales and offers can help you get a good Sennheiser headset at a lower price. Look for the online sales organised at festivals and special occasions. These sales can be available on various websites.
Moreover, there are bank and credit card offers to further increase the discount and make the deal more profitable. In conclusion, by availing of the appropriate deals and offers you can grab a headset at a cheaper price.
Connectivity Type
There are various Sennheiser headphones available in the market which come with multiple types of connectors like 3.5 mm connectors, USB connectors, etc. So, check if the device with which you are going to use the headset supports particular connectivity.
For example, if an individual bought a headphone with USB connectivity; it can't be connected with a smartphone directly. An additional dongle is required for connection that is inconvenient and difficult to manage.
Therefore, make sure to check your preferred connectivity type. Afterward, make a buying decision.
Conclusion
The above are some useful tips that will help you buy SENNHEISER headsets according to your requirements. A good microphone and audio quality are the basic traits of a good headphone. Moreover, comfort is a factor that ensures that the device can be used for longer intervals. In short, look for the features that serve your preferred use case; and keep a check on deals and offers. This way, one can purchase a good quality headset at a reasonable price.