For most homeowners, finding new ways to enhance property security is a top concern. Billions of dollars are spent on new home security gadgets every year. The home security industry is constantly growing and changing, which is why you need to educate yourself about the state of home security in 2022.
Are you looking for new home security gadgets to invest in? If so, check out the technology covered in this article.
1. Voice-Activated Devices Are a Good Investment
By now, most consumers are well aware of voice-activated technology. Devices like Amazon Alexa have brought the power of voice commands to the masses. While you might be familiar with voice-activated technology, you are probably unaware of how it can be used with your home security systems.
Alarm system manufacturers like Honeywell have fully embraced the world of voice commands. Currently, you can use the Amazon Alexa device to control a number of Honeywell alarms. Being able to activate your security system with a voice command is extremely convenient. If you want to find out more about how to use the Amazon Alexa with your security system, be sure to visit Alarm Grid.
2. Invest in Web Security Cameras
If you want to keep an eye on what goes on inside of your home while you're away, then web security cameras are a great investment. These small cameras can be used in any part of your home. In most cases, you can connect them to other smart devices to make controlling them much easier. Many homeowners place these web security cameras at their front door. A large number of web security cameras have facial recognition technology, which allows you to identify who is entering your home.
3. Doorbell Cameras
The average person spends a good time away from home. When you're away, you want to keep track of who is coming to your front door. This is why investing in a quality doorbell camera is a good idea. These cameras allow you to see and interact with people that come to your front door. In many cases, the mere presence of these doorbell cameras can deter burglars from approaching a home.
4. Smart Deadbolt Locks
Durable exterior door locks are one thing you need to keep your home safe. Mechanical locks can be picked by experienced burglars. If you want to add more security to your home, then investing in a smart deadbolt is a wise move. These locks can either be unlocked with a code or with the help of your smartphone. Getting one of these modern locks installed will be much easier with the help of a knowledgeable locksmith.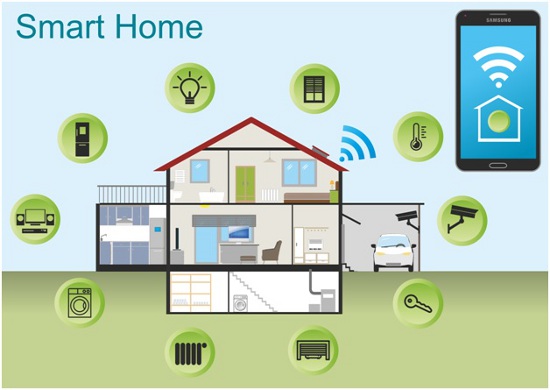 5. Security Cameras With Remote Viewing Capabilities
Investing in security cameras is also a good idea when trying to keep burglars away. When shopping for new security cameras, you need to find products with remote viewing capabilities. With this capability, you can look at a live feed of your cameras from your smartphone. This will give you peace of mind when you're away from home.
By investing in the gadgets mentioned in this article, you can keep your home secure.