Fitness is an inseparable part of a healthy lifestyle. People often neglect the importance of physical exercise and suffer from various illnesses that could be avoided if they worked out regularly. Despite being vigilant about their fitness, many people couldn't visit their gyms for around two years due to the pandemic. It would be a new normal to have a home gym to work out right from your home in such uncertain times.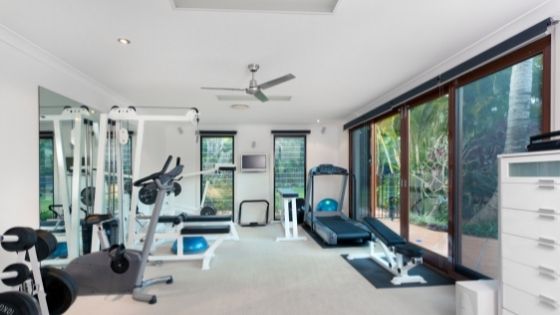 Setting up a home gym shouldn't be difficult, especially when you have all the information available at your disposal. Based on your current fitness level and the available space in your home, you can decide which gym equipment you want in your home gym. Many people start with resistance bands, while some require a weight rack for home gym. Weight racks are designed to offer multiple workout settings and equipment within one rack. You can do latpulldowns, squats, overhead presses, chin-ups, pullups, and several other exercises with the help of just one rack. That is why you must know the right equipment for your home gym. To guide you with that, here are three tips to help you set up a practical home gym.
1. Find a space for your gym
Before ordering the equipment, you must locate a space for your home gym. The area you allot for your gym will determine what type of equipment you can fit in there. You can use your garage, spare bedroom, driveway, or basement to set up your gym.It's also important to understand that depending on the size of the space, you will have to get a foam mat or lay down hard foam or rubber flooring to protect the floor from damage. If you mistakenly drop your weight directly on the floor, you might break the tiles.
2. Invest in the right equipment
It's okay to get tempted to fill your home gym with all the gym equipment you lay your eyes on. But if you think about it, you don't need a lot of gym equipment. Certain gym equipment is multipurpose and can offer a wide range of exercises in one single piece of equipment. If you get a weight rack for the home gym, you don't have to buy separate equipment for different exercises. Weight racks are versatile and sturdy enough to lift heavyweights. They also come with various attachments and grips that allow you to perform multiple activities. One more great benefit of weight racks is that they save a lot of space. They can lift weights up to 1000 pounds and are around 7 feet tall.
3. Decorate the gym
Many people go to the gym for its energizing ambiance. Gyms have the right atmosphere that fills you with energy and gets you pumped up for your workouts. You can create the same ambiance without spending hefty amounts on decor or expensive music systems. You can get a Bluetooth speaker, workout charts, and motivational poster to give the gym's same ambiance. You will get the same feeling of a commercial gym in your home gym without spending hefty membership fees.
You are in charge of your health, and you should be making the decisions that will positively impact your health. Setting up a home gym is the first step toward a healthier life. Just make sure you follow the proper workout routine and eat a healthy diet to achieve your fitness goals.