Do you know there are more than1 in the world? Yes, you read that correctly! And the number is increasing with each passing day.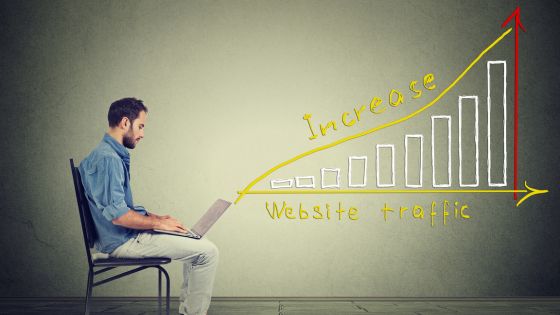 With so many websites already present out there, standing out and grabbing the top spots on a search engine's result page is not a cakewalk. You need to understand the latest SEO trends, analyze your competitors' websites, do extensive industry research, and invest a lot of time and resources to increase your site's visibility. Sounds complicated, right?
Fortunately, we have you covered!
We know how important it is to increase your site's traffic for continued growth and success in the digital landscape. To make that easier for you, we are going to share our best tried and tested tips for increasing website traffic. By the end of this blog post, you will have a clear idea about how to increase traffic in website.
Let's dive in!
How to increase traffic to your website: 10 tried and tested tips to help you get started
1. Make SEO a priority
Search engine optimization (SEO) is one of the best and most effective ways to attract more visitors to your website. It helps your site rank higher in SERPs, and as a result, you will have higher chances of attracting the right audience.
However, when it comes to SEO, many struggle to understand what works and what doesn't. If you are new to SEO or managing a website, working with a reputed internet marketing agency can be worth your money.
But if you want to do it yourself, here are some tips for optimizing your website for search engines:
Use a combination of well-researched and target long-tail and short-tail keywords in your content
Try to acquire high-quality backlinks
Use 1 to 3 internal links on all your website's pages
Write keyword-rich meta titles and descriptions
Use correct H1, H2, and H3 tags
2. Make the most of social media
Using social media platforms like Facebook, Instagram, Twitter, etc. can be a fantastic way to drive traffic to your website. You can make accounts on some of the most popular social media platforms and post relevant and interesting content there.
Focus on building an engaged community that enjoys your content and would visit your website to learn more. Posting relevant content on social media that links back to your website can help increase your website traffic quickly.
3. Focus on creating high-quality and interesting content
To drive more traffic to your website, you need to capture the attention of your target audience. You need to create top-notch, informative, and engaging content.
Creating valuable and visually-appealing content is the best way to attract more visitors to your website. Make sure to try your hands at different types of content like blogs, articles, videos, graphics, etc., to keep things interesting.
4. Leverage advertising
Using paid advertising like Facebook ads and Google AdWords can also help you in attracting more website visitors. There is a large variety of paid ads that you can use for your website. They include pay-per-click ads, display ads, etc., that you can choose depending on your budget and requirements.
5. Invest in email marketing
Email marketing is one of the most cost-effective ways to attract your target audience and increase site traffic. You can create email campaigns and send newsletters with interesting and valuable content, offer incentives, talk about discounts, etc., to encourage people to visit your website.
6. Acquire high-quality backlinks for your content
Another excellent way to increase your website traffic and improve its credibility is by acquiring high-quality backlinks for your website. The reason for this is simple. To rank higher on SERPs, you need to establish yourself as an expert in your industry.
One of the best ways to do that is by getting backlinks from other credible and high-quality websites. Besides being one of the most important ranking factors for almost every search engine, backlinks also help you in driving referral traffic to your website.
7. Work with influencers
If you think working with influencers is just for big and fancy brands, you need to think again! This is because even if you are a small business owner or a solopreneur, partnering with influencers can help you boost your website traffic. It is an excellent option for individuals looking to improve their eCommerce and online marketing.
Influencers have a dedicated audience that trusts their words and recommendations. Thus, when an influencer talks about your website positively, their followers are more likely to check it out.
8. Give a shot to guest blogging
Another way to expand your reach and get more traffic to your website is by guest blogging on a high-authority website in your niche.
If blogging is something you enjoy doing, just get in touch with some of the best websites in your industry and pitch them your guest blogging idea. Write interesting and relevant content for the website's audience, and don't forget to include a link back to your website.
9. Give video marketing a chance
People enjoy seeing and listening more than reading. This is the reason videos are a super-hit amongst modern-day internet users. By investing your time, skills, and resources in video marketing, you can make your website content more appealing to your audience.
This, in turn, will enable you to attract more visitors to your website. When it comes to videos, there are various formats that you can try, such as, short-form videos like Reels, long-form videos, live videos, YouTube videos, and more. You can also work with video marketing services to get the best results.
10. Share freebies with your audience
Offering freebies like e-books, templates, or webinars can be a great way to draw new people to your website. Make sure the resources you provide are of top-notch quality and related to what your audience is interested in. Don't forget to share them on your website and social media channels for better reach.
Benefits of increasing website traffic
• When you have more people visiting your website, you have a greater chance of converting them into paying customers.
• Increased website traffic also helps you strengthen your brand image and brand recognition.
• If you have a lot of people visiting your website, it tells search engines that your website is valuable and well-liked. This can help you climb up the SERPs and beat your competitors.
• And obviously, more website traffic also increases your chance of making more sales, thereby increasing your revenue.
Conclusion
Increasing your website's traffic might appear to be a daunting task at first, but with the right tips and methods, it becomes easier and quicker. All you need to do is develop a strategic approach from the beginning and have your eyes set on your business goals.
As we said above, if you require help or assistance, working with an internet marketing agency like Paton Marketingbe a smart choice.
With that said, make sure to note down all the above-mentioned tips to increase site traffic and implement them on your website. We are sure you will see positive results soon enough!